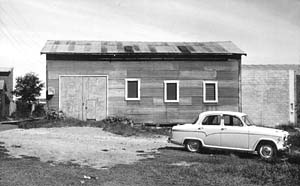 The Australian Model Railway Association was first formed in Victoria in 1951, and the first meeting of the NSW Branch was held on 28th October 1956. It was decided to meet on a Thursday each month, but as membership grew this changed to Saturday afternoons. Meetings were held at the homes of members scattered all around Sydney; those without cars arranged to be collected at convenient locations.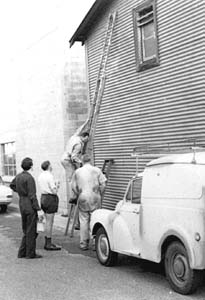 This system continued for a number of years until one wet Saturday when about forty people turned up at Harold Warren's place... and the need was seen to acquire a home. Scouts were sent out to seek suitable spots on vacant railway, Water Board and Electricity property. A portable pre-fab aluminium school building was purchased, dismantled and stored. During this time the (then) Burwood Police-Citizen's Boys Club was used as a stop-gap meeting place.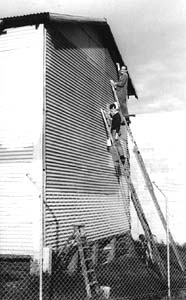 Early in 1968, member Ivo Bunker saw an advertisement in the Sydney Morning Herald about a building in Rockdale for sale. It was a large galvanised iron building surrounded by rubbish, with block-and-tackle hanging from the roof and the remains of fifty years' occupation. The building had belonged to a theatre chain in the days when they had a live show on one half of the program and all the scenery had been built in this shed.
The premises were purchased, rubbish cleared, toilets constructed, kitchen and office installed, and the hall lined with fibro. The ceiling was lined, the roof replaced, and the floor resurfaced.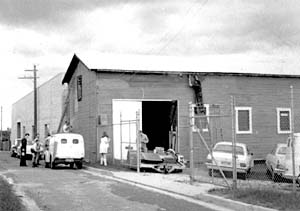 Later the building was resheathed with concrete blocks and the hall extended to provide an annexe for a large HO scale layout. Construction of this layout began in 1987.
A modest sign "A.M.R.A." marked the clubrooms to avoid attracting unwanted attention in a small laneway in a quiet suburb.
By 2002, the clubrooms were on the move. Rockdale Council finally began to act on the widening of Chapel Lane, which had been their intention since the premises were bought by AMRA in 1968. The proceeds from the sale were used to purchase our current premises at 48 Barry Avenue, Mortdale.