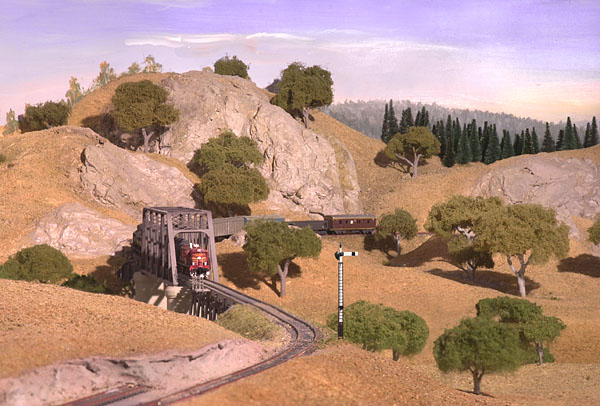 The N scale layout was originally located in the main hall at the Rockdale clubrooms, under the mezzanine formed by the O gauge layout above. Like its HO equivalent, its design is based on a dogbone of double mainline on the outside of two large rural stations, BOWNEN and WALLAMUNDRA. The latter is the junction for a "pioneer" branchline to WATSONS FLAT, passing over the bridge seen here and on our home page. At the Bownen end a new fiddle yard is being constructed so that trains will not be installed using the yards of the main stations, leaving them free for operation.
The dogbones allow a train passing along the mainline to turn back on itself either under the road bridge at Bownen or through the tunnel past Wallamundra. On the mainline, a small island passenger platform, BENNETT, is set in the 1960s in the Blue Mountains and with the new tunnel between it and Bownen. On the branch, a small mine siding and an isolated intermediate station COOPERS CROSSING are also featured. A new peninsula is being planned that will provide another scale kilometre of double mainline running through spectacular scenery such as a bridge based closely on that at Hawkesbury. The peninsula will also feature another industrial spur.
The N gauge layout attempts to represent a broad period between 1960 and 1975 - the dying days of steam and the onslaught of diesel – when the railway system of NSW was becoming dilapidated enough to be interesting but was still largely intact.
Between the stations are expanses of Australian scenery so suited to N scale. The entire continuous stretch of skyboard on the inside area of the N scale layout has been graced by the oils of local fine artist, the late Val Bennett, who started her project in 1988 and continued as basic scenicking was completed over the next decade. She finally signed her name to the interior skyboard surface in 1999.
The layout was commenced in 1987 in Rockdale and that V-shaped layout plan was cut into several sections for the move to Mortdale. The dramatically increased floor area has permitted a second peninsula with a multi-span Hawkesbury-like bridge, another passenger station, a wharf siding with a fishery and even a gravel mine.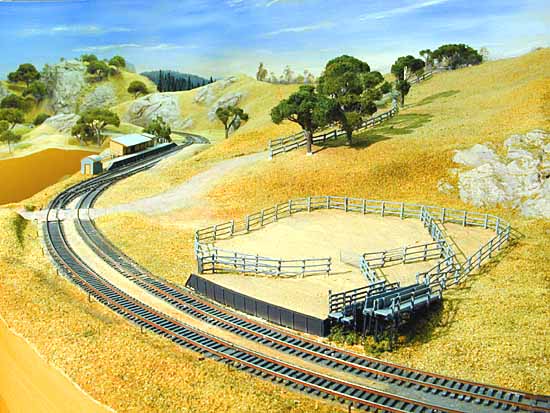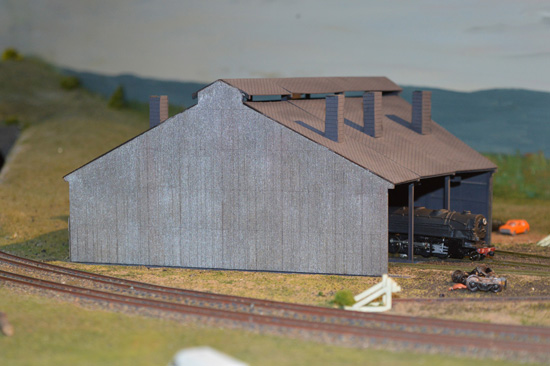 Another view if the roundhouse showing a couple of interior lights glowing in the dim interior.